A website dedicated to nature
Pictures and movies of nature in Switzerland and around the world
Change to the French version by clicking on the flag at the top right of the page.
For quick access to the pages, click on "Sitemap" in the "Home" menu.
Find out below the reason for choosing the domain name "thelastbee.ch"
All the videos on this site are by Bernard Scherler
Photos: Bernard and Danielle Scherler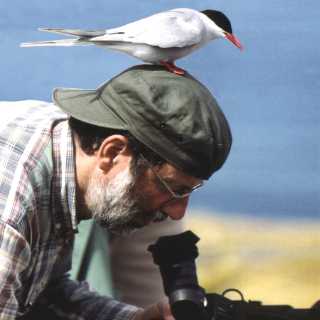 In 1998, after more than 25 years devoted to wildlife photography, I was loaned a video camera.
The virus was inoculated and, despite the inherent difficulties of computer editing 24 years ago, hours of shots, first in 4:3, then in 16:9 filled gigabytes, then terabytes over several HDDs.
We soon forgot that the first edits on PCs were done in quarter VHS images, and that, shortly after, the calculation of a cross dissolve of one second in SD definition took up to a minute.
Then came HD, and now 4K, absolutely superb, but requiring powerful computers and considerable storage space.
After 15 years of using ready-made applications for the Mac, it was in 1999 that we started developing our own.
Since 2012, development also involves the iPhone, ensuring compatibility with the iPad.
The following website lists our activities on this platform with iThink Solutions.
For ornithologists, we have created the Multilingual Dictionary of the Birds of Europe on iPhone and iPad, of which the screenshots opposite give an overview.
More informations at the following link : www.ithink.ch
Why the domain name "thelastbee.ch"?
On October 30, 2019, Sebastian SEBOLD and col. published a study showing a decrease of more than 60% in insect species in grasslands and more than 40% in forests in Germany. Relayed by TV5 Monde, the information is supplemented by American and Dutch data showing a decrease of more than 80% in 40 years in the former and 75% in the latter.
During two trips to Spain, in 2018 and 2019, I noticed that the abundance of insects in this country required cleaning the windshield every two days, even on small secondary roads, while crossing the French border at Perthus on our return, no cleaning was necessary for more than a week. And I made the same observation in Switzerland.
Fewer insects therefore means fewer birds. In Switzerland, the cleaning of roadsides (pushed to the extreme in my municipality) and the general impoverishment of flowering meadows have led to a scarcity of butterflies.
In 50 years of practicing ornithology, and observing nature in general, I have paradoxically witnessed the increasingly frequent presence of certain species, such as the Rook, the Red kite or other opportunists, which is not necessarily a sign of an improvement in the health of our territory.